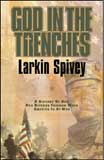 Does God Bless America?


In these confusing and complicated times we live in today, a new book, rich in patriotism and love of America examines the unlikely combination of God and war. Lt. Colonel Larkin Spivey, a Christian military historian and author of God In The Trenches: A History of How God Defends Freedom When America Is At War looks at critical moments in American history and finds God's hand guiding America to victory.
In God in the Trenches, Spivey examines the Revolutionary War, The Civil War, World War II and the Cuban Missile Crisis, all instances when the nation's survival seemed uncertain, even doubtful. Mysterious—if not miraculous—events occurred in each, altering history, leading to victory for America and freedom for America's citizens.
Spivey digs deep, looking at critical moments and turning points in wars that are often described in the secular world as "pure luck"—Spivey says believers will see God, not luck, as the turning point. "I believe that God's providential hand can be seen in the details of history," states Spivey.
Lt. Colonel Larkin Spivey, a Marine with twenty years experience, including combat, a graduate of the Citadel, and a Christian, is uniquely positioned to discuss the major wars America has faced while